January 2018
| Sun | Mon | Tue | Wed | Thu | Fri | Sat |
| --- | --- | --- | --- | --- | --- | --- |
| | 1 | 2 | 3 | 4 | 5 | 6 |
| 7 | 8 | 9 | 10 | 11 | 12 | 13 |
| 14 | 15 | 16 | 17 | 18 | 19 | 20 |
| 21 | 22 | 23 | 24 | 25 | 26 | 27 |
| 28 | 29 | 30 | 31 | | | |
Calendar

Alright so here I was, just sitting there staring at my MAL, when something occurred to me: In the Haruhi Suzumiya no Yuutsu anime, Kyon has a little sister. Just like Kyon, her real name is unknown. Nothing canon has ever mentioned her real name, just referring to her as "Kyon's Little Sister".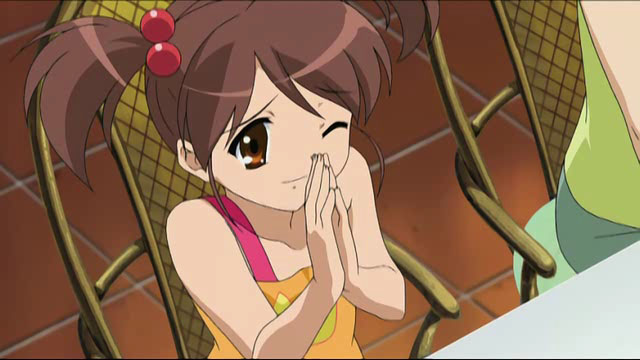 Strangely, I had a sense of deja vu as I stared at this picture. I
know
I had seen her from somewhere before, but not
exactly
her. As I thought over this, I decided to go to Youtube and watch some random videos.
After browsing for a few minutes, something caught my eye. It was
her
, but not
quite
her. Kyon's sister was staring back at me from the screen, with her brown ponytail with the bead hairclip and smooth white skin and big expressive eyes. But
bigger
.
Older
.
Sexier.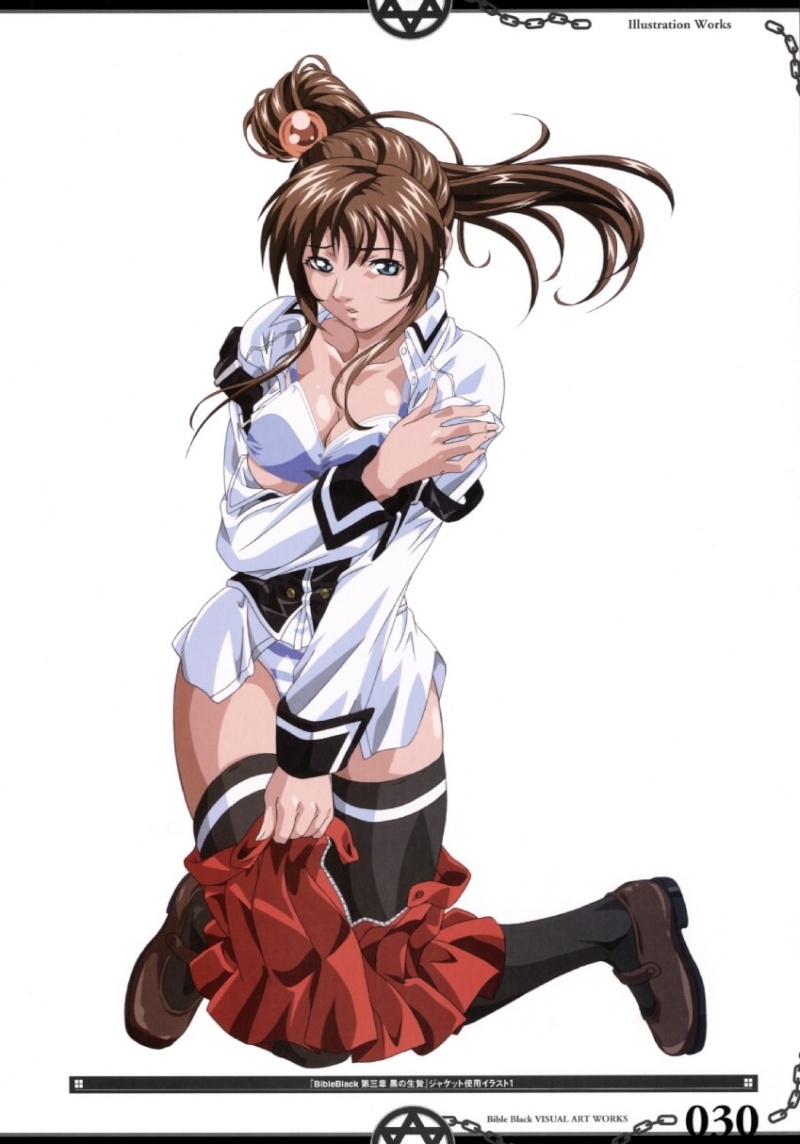 Yes, that is right my friends. Kyon's innocent little sister is none other than Imari Kurumi from
Bible Black
.
But HentaiTentacleDemon-sama, how come Little Sister's eyes don't match Imari's?
Easy, colored contacts. Green eyes are sexy, and believe me, in Imari's line of work she wants to look sexy.
How can that be Kyon's innocent little sister? She isn't a slut
Yes, in the Haruhi anime Imari wasn't a slut. However, I believe her transformation from a wide-eyed kawaii imouto into a ravenous, 50 cent cheap ass whore can be summed up by two words: Haruhi Suzumiya.
You see, Imari looked up to Kyon. Adored him even. The evidence of her affection can be clearly seen in the anime. However, things began to take a turn for the worst when a certain person named Haruhi Suzumiya entered their lives. Because Haruhi was not only God but also an attention whore herself she demanded much of Kyon's time, leaving his poor imouto lonely and depressed. As time went on Haruhi demanded more and more of Kyon, which put more and more of a strain on his and Imari's relationship. Since there was no fatherly/brotherly figure to turn to anymore, Imari grew up craving the attention of male company. Eventually she moved on to high school, where she was featured in Bible Black as the main heroine.
The show was named Bible Black because Imari is the main character, alluding to the fact that when God (Haruhi) entered their lives, her world became dark. Depressing.
Black.
Now this might all be just simple coincidence. But I don't think so. In fact,
I know so.
So there you have it. Kyon's imouto now has a name. And that name is
Imari Kurumi.
I just also wanted to say that I enjoyed both of her shows immensely.

HentaiTentacleDemon

Tsundere




Number of posts

: 59


Age

: 32


Location

: Back alley


Registration date :

2008-01-24



Wow Vince, WOW
Good insight

Chumara

O-Haruhi-Sama




Number of posts

: 1807


Age

: 30


Location

: Tempe, Arizona


Registration date :

2008-01-24




Ryuuka

Zashiki Warashi




Number of posts

: 618


Location

: behind the scenes


Registration date :

2007-12-20



Bored out of my mind today, so I decided to rewatch some anime series.
While watching
Angel Beats
, I got to the part where the character Yui is playing in a band (forgot the name of the band already, I think it was Dick Girl Monster) and then I got the familiar sense of deja vu again.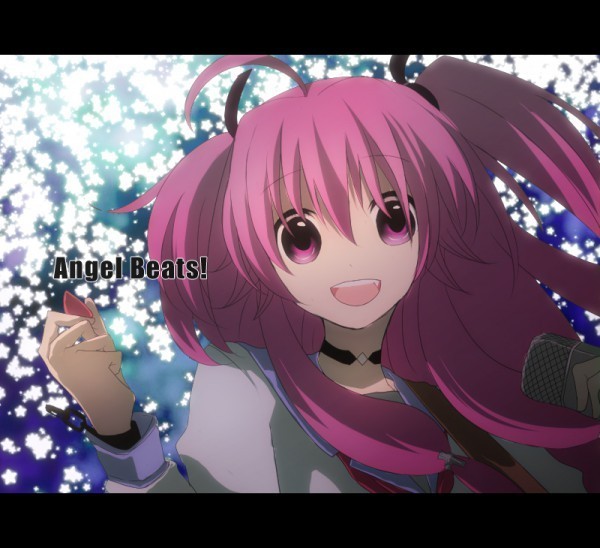 For all of you who are unfamiliar with Yui or
Angel Beats
in general, everyone in this show is dead. Something to do with being killed in a horrible, horrible fashion and not being satisfied just yet or whatever (I will admit this show was confusing). So basically they live in this limbo sort of place just going to school and playing baseball and generally just fucking around getting nothing accomplished, kinda like in
Bleach
except without the homoeroticism
. [Edit: nvm forgot about Naoi lol]
Yui apparently died from some sort of sickness, but the show is very vague about this. Personally, I believe she died from the extreme amount of coitus she most assuredly had when she was alive but I'm getting off track here.
Yui gave me that sense of deja vu I experienced with Imari (see my first post) and after a bit of Googling I found exactly what I was looking for.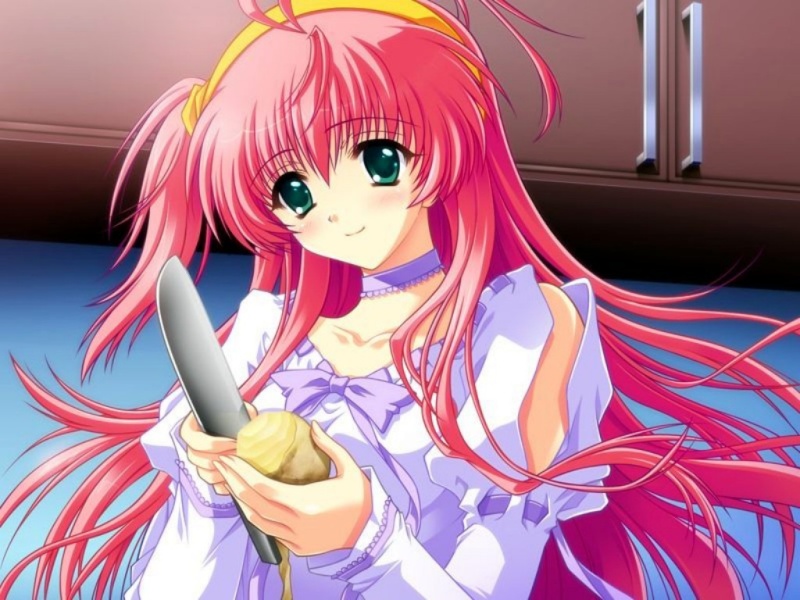 For the uninformed, the above is a picture of Stra from
Nostradamus ni Kiite Miro
Mr. HentaiTentacleDemon, Nostradamus ni Kiite Miro isn't a show. It's an H-game
Yes I know, this is more along the lines of
"Characters that look similar in different media"
rather than the original thread topic. You know what, I don't care. I created this thread and I'm too damn lazy to change it.
So who is Stra exactly? I actually don't really know, because I have never played that game. I just wanted to point out the Yui and Stra both look the same.
And that both are whores.

HentaiTentacleDemon

Tsundere




Number of posts

: 59


Age

: 32


Location

: Back alley


Registration date :

2008-01-24



I get better Yui vibes from Nerthus from Oresama no RagnaRock:


Tekkaman Calamity

1% Waifu Material




Number of posts

: 1741


Location

: The Milky Way Galaxy


Registration date :

2008-01-24



Vince I LOL'ed pretty hard. They do look similar except obviously, inferring from that picture, Stra knows her place in the kitchen, hence is why she's my wife.

Chumara

O-Haruhi-Sama




Number of posts

: 1807


Age

: 30


Location

: Tempe, Arizona


Registration date :

2008-01-24



I'm just going to leave this here for Vince.

Ryuuka

Zashiki Warashi




Number of posts

: 618


Location

: behind the scenes


Registration date :

2007-12-20



---
Permissions in this forum:
You
cannot
reply to topics in this forum